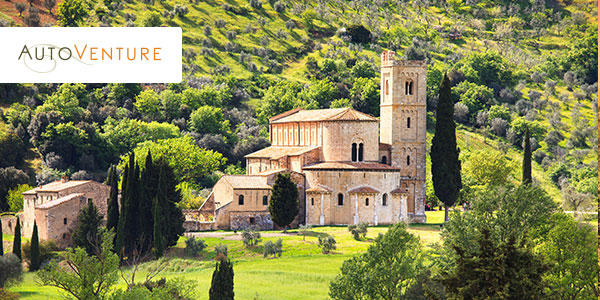 Tuscany
"You may have the universe if I may have Italy"
Giuseppe Verdi, the famed 19th century, Italian opera composer, easily could have been speaking of Tuscany when he expressed his love for his homeland. After all, there's no better place to capture the riches of Italian life better than Tuscany, known for its incomparable food and wines, rich art and architecture, and its vivacious, friendly people.
To ensure that you don't waste a moment of your precious vacation in this famed region, experience an AutoVenture privately guided tour. With comfortable, luxury ground transportation, AutoVenture's experts will craft a tour that puts you closer to the culture, and gives you a memory to treasure.
On your journey to the small hill town of Montalcino, you'll stop at the 11th Century Abbey of Sant'Antimo, one of the most significant architectural remains of the Romanesque period. From its rich design to its surrounding landscape, with the river Starcia and olive trees, this gleaming monastery appears as if it springs from a painting. Inside, guests can enjoy the musical poetry of the monks intoning Gregorian Chants, which have been compared to a "bible in music."
While in Montalcino, AutoVenture will also take you to the the wineries producing the world-revered Brunello di Montalcino vintages using Sangiovese Grosso grapes. The historical Fortress of Montalcino, where every "Brunello" can be tasted, dominates the village's beautiful estates, castles, narrow streets and surrounding farms.
One of these farms, Fattoria dei Barbi, continues its centuries-long legacy of producing wine from its vineyards, salami from pork, pecorino cheese from sheep's milk, olive oil, honey, and a bounty of traditional cuisine for its famed restaurant, Taverna dei Barbi. Luckily, with AutoVenture, you will get to experience everything Giuseppe Verdi was speaking of when you treat your palate to an afternoon of true, farm-to-table cuisine and tantalizing Brunello wine tasting.
For those unfamiliar with beautiful Tuscany, an AutoVenture guided tour is the surest way of getting closest to the culture, and of capturing an unforgettable land.
---